Everyone has their ideal of what summer should be. For children though, they only want one thing; as William Wallace once said, "Freeeeeedom!" It's their time away from school where the world is their oyster, so to speak. Wicken Toys really gets this idea. Summer holidays are a time for children to really feel like children without the confines of school rules and regulations and classes and stuffy old learning! It's their time to have FUN.
We here at Wicken Toys have compiled our Fun List of activities for children plus the toys we think will best serve their summer of freedom and fun.
1. It's got to be the beach at the top spot!
What kid doesn't love to play in the sand and run amuck in the shallow waters of the sea? Beaches are the number one family holiday destination in the summer and they make for a great experience for everyone concerned, if the weather holds out of course.
If you can't make it to the beach every weekend with the kids you can always bring the beach to them! Get them a Forest Hexagonal Sandpit that fits at home in any garden. It's ideal for building sandcastles and digging and certainly offers up the closest at-home equivalent of the beach. To match the sand of the beach with a sandpit you shuld also match the water of the sea for a pool.
Get your hands on the Intex Fish Pool designed to be the closest thing to a safe water experience for young children at-home. There is enough room for mum and dad in this pool.  Deep side walls make this great for older children too. Intex are one of the worlds largest inflatable manufacturers and they inflate all their toys at the factory before they are packed. 2. Water parks
The next best thing to the beach is a water park. We don't know quite what it is with kids and water but they seem to love going in it (unless it's bath time!) Water slides are just a delirious treat for them but the parks can be very expensive, even for family special tickets. So if you're not too keen on the idea why not build your own water park outside? It's cheaper and just as much fun for the kids.
The Aqua Slide is a very popular seller come summer time. It can be used with any normal slide or just lay it on the garden and away you go. Great fun made better by the extra slippy silicone surface which helps propel you down the garden at great speed. Guaranteed laughter for kids, Mum's and Dad's.  Yes, parents need to get involved too!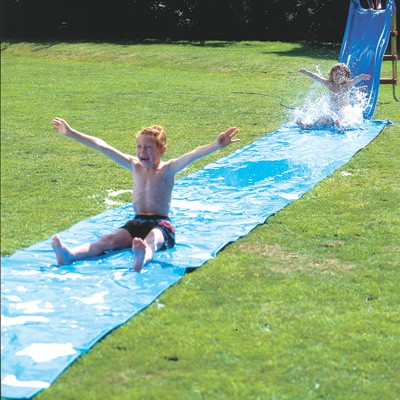 3. Play Park
When in doubt, the play park is always a safe bet. Swings, slides, seesaws, roundabouts, climbing frames, the whole works. There's enough energy to spent there to make the kids exhausted by day's end and allowing youa  break in the evening while they wind down to sleep.
You can build your own play park of course by selecting from our range of garden swings, climbing frames and seesaws to create your own park package out back.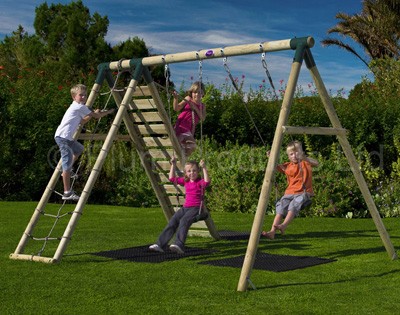 This summer make it easier on yourselves by writing your own Fun List for the kids. It helps you to plan out activities and ultimately save some money in the long term.