So the sun is shining a bit brighter leading us into a (hopefully) brighter summer. When it comes to taking care of the kids and their demands for playing and having fun there are many different options you can choose from. But what could be better than putting the wind in their face, getting them to head out on the highway, look for adventure, whatever comes there way? You can make it happen. These kids were born to be wild!
Today we're recommending children's trikes and tricycles to get them on the move into summer. Trikes are a wonderful way for developing children's balance, hand-eye coordination and make for a great way to prepare them for bicycles later on down the line.
The German company Kettler have been manufacturing kids trikes for years and probably have the best reputation in their market, which is why we at Wicken Toys have such a loyal relationship with them and their products.
The top of the range Top Trikes feature:
Air tyres
Extendable frames
Freewheel facilities
Strong metal frames
There's plenty of easy riders to choose from.
Take for instance The Funtrike. This trike has the aforementioned free wheel facility which basically is a patented feature that allows the child to rest their feet on the pedals whilst you guide with the parent pole. The pedals will only engage when the child begins to pedal.
It also has parent handle and a tipper bucket. This trike is definitely suited to beginners who need close supervision from a parent (hence all the additional safety features). Suitable for age ranges 2+ years. The Kettler Happy Trike Racing is a bigger and more complex trike that works best on children who already have been in a tricycle before. There are optional safety harnesses available on all these trike products.
Each Happy model features a unique frame design, which can be extended to grow with your child.  In addition, one easy adjustment changes the handlebars from fixed, for use with the parent pole, to free for the child to steer.  They also incorporate Kettler's automatic freewheel facility.
On the other hand, the Kettler Top Trike Air Fly offers maximum comfort thanks to the use of large air tyres and ball bearing hubs.  It features a unique extendable and separable frame, lockable handlebars for use with detachable parent pole, freewheel facility, rear handbrake for parental control, and an optional safety harness. Options of pink or blue colours. You can purchase a safety harness separately for extra support and safety, especially for first timers. The Safety Straps are a perfect addition to the Kettler trikes range to keep your child secure when in use. It attaches to the seat and frame.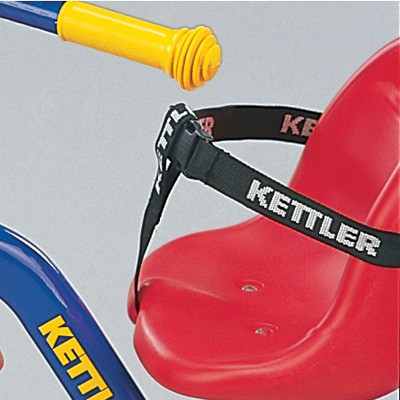 Give your children a taste of freedom and adventure this summer. Let them loose in a park, on your block or in your garden so they can really enjoy themselves and become the easy riders they were born to be!