Okay, you know that the kids are going to have a totally awesome summer holiday whether they are playing outside in the sun, indoors watching television, or playing video games in their bedroom! They don't have to go to school and that's the whole point. But what about Mum and Dad? You poor things always have to put the kids fun times first before your own. Well today in Wicken Toys blog we will take you through how you can enjoy yourselves too!
Mums and Dads have the hardest job... period. Raising children is the most important responsibility in the world, well, next to nuclear weapons release...
This summer you can join in with the kids in activities designed to suit both you and them.
If the weather fits... slide it!
Outdoor Slides in the garden is a perfect way to mix both fun for kids and fun for adults too. Setting up one of these bad boys out back presents plenty of good times to be had by the whole family. Crack out your swimwear because it's going to get wet!
Tp Aqua Slide is what we are referring to here. You can use it with any slide or just lay it on the garden and away you go. Great fun made better by the extra slippy silicone surface which helps propel you down the garden at great speed. It's guaranteed laughter for kids and parents.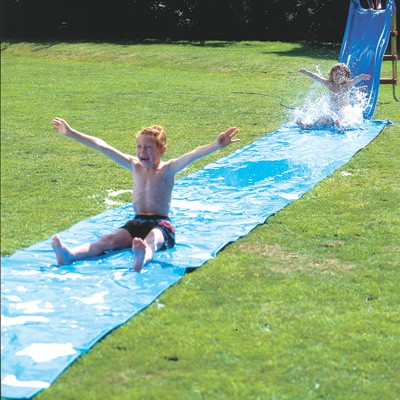 On the other hand, if you are more of a sporty Dad or Mum, perhaps getting your kids involved in an active sport would be the best answer to this conundrum of resolving the disparity between an adult and child's idea of fun.
It's the season of sport – Euro 2012, Roayl Ascot, Wimbledon, and of course the Olympics! So why not get your back garden to be a participating arena for your own set of football frolics and table tennis tournaments.
We have Tp Giant Goals which are a great way for Dads to get in on the football action. They work for both children and adults. If your sons are keen football fanatics then this is the ideal choice of garden toy. Alternatively, you can always go for the more relaxed, but just as challenging, Kettler Stockholm Outdoor Table Tennis. It's an indoor indoor table too with strengthened undercarriage & playback facility. Perfect for use inside or outside, depending on the temperature and weather. It's a beautiful little package that Mum and Dad's can play against each other or their offspring. There's a little something for everyone. The more the outdoor play equipment translates to the hardworking parents, the better we say!
Enjoy your summer with your children and get in on the adventures!