Children require different things at different ages. Playtime helps to stimulate them and encourage interaction, assist in growth and learning development. But younger pre-school children are not always up to the task of playing bigger, more complex games. It's best to keep things physical, but simple.
Wicken Toys takes a look at the outdoor toys that are most suitable for these pre-schoolers and why.
Playhouses are the houses that can fit in a house! These are very much tailored towards the world of make-believe and stimulating their imagination rather than stimulating them physically. In a playhouse (depending on what kind you get) children can create their own world in which to live in at playtime. This is an important part of early learning as through this kind of make-believe children pick up on social skills and etiquette.
There's the simplicity of the Forest Cabin Playhouse, which is perfect for the type of children who like to choose who they invite into their home! That's right Mum and Dad, you're probably not on their list, so you're not getting in. Of course, there is the type of child that wants to go beyond playing house. They want adventure in large portions. Well, they don't come larger than All Out Play Turret. The Turret can be a fantasy palace, a wild west fort or a medieval castle under siege! This is one of the more impressive playhouses that you will find. And it's good fun for the kids where they can playact and roleplay all day.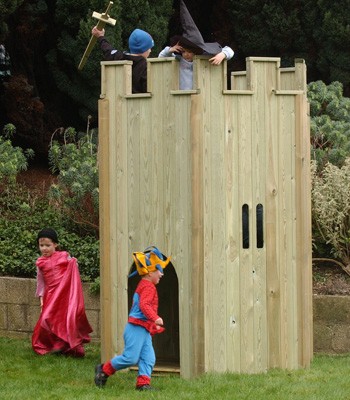 Another good pre-school outdoor toy is the trampoline. Even as an adult you know how fun they can be once you get into your rhythm. It's like being able to touch the sky with your fingertips. But some trampolines aren't meant for the younger ones as they lack the required safety measures. That's why Wicken offer the JP Junior Trampoline designed to help improve a child's balance and standing skills with strong galvanised steel frames and built in detachable handle. This is a perfect outdoor toy to help the 12+ months children get to grips with standing, jumping and balancing. There's also the Plum 6ft trampoline that comes with an enclosure so that no matter how many times your child bounces or falls over on the trampoline they will never go over the side or hurt themselves. It's a safe and colourful option that helps children to gain confidence on trampolines before going off to use bigger ones.
These are just a few of the options available to get for your pre-schoolers. It's a combination of fun play, activity, learning and safety. All extremely beneficial to your child. For more ideas just browse our website. We'll be back with another blog on this to help you by providing more ideas! See you then. :)