A castle to call my own – Christmas playhouses for children
It's hard to believe that Christmas 2011 is two months away. From September or October time, children start to get the red and green mist of Christmas; they begin to see the new toys and games filtering through on the TV and their little minds work overtime with lists for Father Christmas.
Christmas is such a special time for little ones. The magic is an almost tangible thing and they get so excited about Christmas Day that they can't sleep. Christmas gifts are difficult things to get right, but Wicken Toys can guide you on buying your children a perfect Christmas gift.
My home is my castle
Playhouses can give children endless fun and games as they tumble through childhood. It's a private little kingdom for them to call their own, where their minds can conjure up all sorts of weird and wonderful adventures.
As proud owners of the UK's largest outdoor toy display, Wicken Toys in Milton Keynes gives you the unique opportunity to come down and see the toys in real life before you decide on your purchase.
Does your son or daughter fancy themselves an elven warrior fighting on the plains of Middle Earth? Does your daughter imagine herself as a shield maiden fighting legions of gruesome warriors? The All Out Play Tower playhouse gives your children a refuge away from the house and their own little castle tower to play in.
Shaped like a turret and made from strong, sturdy wood, the All Out Play Tower would make a perfect Christmas gift for children looking for real adventures at playtime. They can imagine themselves holding the fort of a castle, preparing to do battle against an army or they can make a comfortable den in there.
It's the adventurer's choice.
The All Out Play Castle playhouse
Their home will be their castle this Christmas if you choose the All Out Play Castle from Wicken Toys. This wooden castle can become a fairy palace, the castle of valiant princes or princesses, a fort for cowboys from the wild west or the fort of a brave warrior.
The All Out Play Castle is decked out with arched doorways like a real castle; it has arrow slit windows for an authentic castle feel and internal hanging bars for children to play on inside the castle.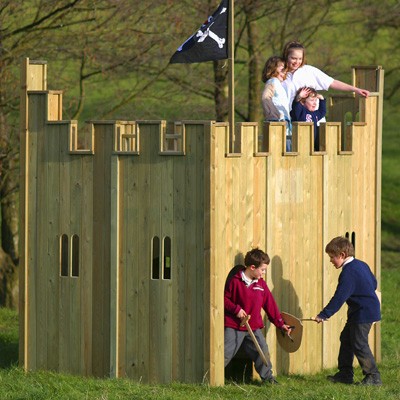 This playhouse even comes with a flagpole, so you and your children can sit and create a flag for the play castle together for some quality family bonding time together. This is the ultimate Christmas gift for brave and adventurous children.
Wicken Toys is like a dreamland for children, where they can shop with their families and see an amazingly rich world of outdoor toys and games. Children deserve as many magical Christmases as possible and these playhouses are a fun little piece of adventure in a world of pure imagination.
If you have any questions about any of our toys or you'd like to see them in the real world, come down and visit us. Our address details are here.