Your new climbing frame should be more than a piece of play equipment to climb up and slide down.
The right playset will inspire your children to play in a world of fantasy, becoming an integral part of their make believe play.
---
1. Little Pirates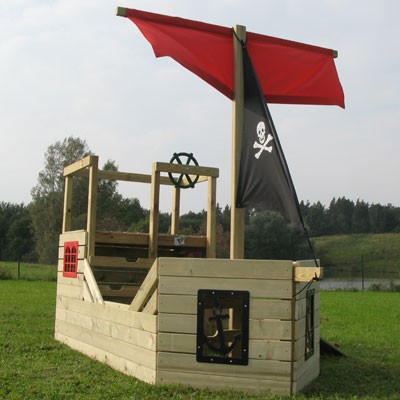 This is the perfect prop for pretending to sail high seas. With a raised deck, a gang plank, and a captain's deck with steering wheel, there's plenty to spark the imagination.
---
2. Little Princesses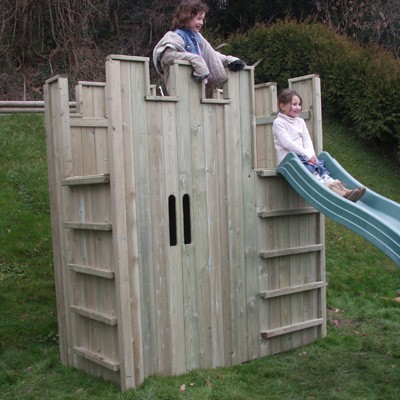 With slit windows and an arched doorway, the All Out Play Gatehouse, is a versatile, medieval-looking playset. Perfect for little princesses, and a great hideout for knights of the realm. You can attach a slide as shown in the picture, or connect it to other All Out Play sets with a bridge.
---
3. Jungle Explorers This versatile Plum Climbing Pyramid is great for playing armies, or hide and seek, but for maximum impact, let the surrounding grass grow long and use it as a jungle hide-out.
---
4. Deep Thinkers Get up close to the clouds, for some peaceful meditation, with the Plum Lookout Tower. The platform is 4ft from the ground, giving a great view of the garden (and probably the neighbour's gardens too). When the contemplation is over, and it's time to play, the children can fly down the 8ft slide.
---
5. Homemakers
I love this Forest Lodge from TP, because of the value it offers: a slide and playhouse all rolled into one. The house, and raised platform between the house and the slide, are 2ft 9inches from the ground. This height offers a gentle climbing challenge for little children, and makes the playhouse feel like an adventurous treehouse. The windows and door open and shut just like a real house. To make it more homely you could install a play kitchen, some curtains, and a pair of small chairs.
---
All these play frames are made from treated wood, which means you don't need to do anything besides assemble them, and they're ready to go. But because they are wood, if you wanted to, you could stain or decorate the frames as you wish. As your children grow you can adapt the frames to meet their changing needs. The Pirate Galleon can be converted to a navy warship, and the Gatehouse can be converted from a princess palace to a cowboy's hideout. Making small changes to a playset can reignite your children's interest in the equipment, and stretch the value that you get out of it.
Although it may be tempting to go for a bright pink playhouse on stilts, or a slide and den in full army camouflage, because they will have the biggest 'wow factor'. However, be aware that play equipment that appeals to just a narrow age range, or just one gender, may not offer the best value for your money, and children's tastes and interests quickly change. Look for a climbing frame that suits your children's developmental stage and ability now, but will also grow with them.