A Princely Playhouse
With everyone jumping on the royal baby bandwagon, we didn't want to get left behind.
So here is the ultimate wooden climbing frame, certainly fit for Prince George of Cambridge himself.
It's the Castle and Tower Set from All Out Play.
Although it looks perfect for little princes and princesses, the two structures lend themselves to lots of pretend games, like medieval knights, a cowboy's fortress, or a fairy's magical tower.
To make it a real home from home, perhaps the royal gardeners will dig out a mock River Cam to flow under the bridge.
There's a castle, with a play platform at the top, and access to the covered tower over the bridge. Little adventurers can then whizz down the slide, and hide out in the den under the castle.
And For The Smaller Purse
For a more modest budget, perhaps if you are a lowly Lord instead of a Prince, the All Out Play Gatehouse costs under £1,000.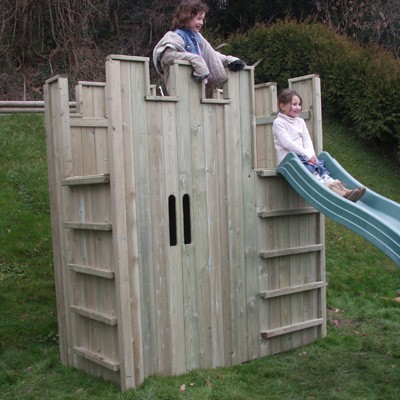 The set consists of a wooden, uncovered building, with a raised platform, and 10ft slide. There's is also a ground floor play space with slit windows.
Since this playset with compatible with other All Out Play sets, you can start out with just one building and add to your collection as your family grows.
Bizarre Royal Gifts
Although the new baby Prince is a little young to enjoy this outdoor play equipment, it certainly makes more sense than the unsual gift he received from the Austrailian Northern Territory this week.
The crocodile hatched on the 3rd of December, the same day that the Duke and Duchess of Cambridge announced their pregnancy, and has been waiting for the arrival of the baby prince ever since.
Adam Giles, chief minister of the outback province, has named the reptile George, after the prince, and hopes the young royal family will fly out to visit him soon.
Thankfully, Canadian Prime Minister, Stephen Harper, had more sensible gifts in mind for the new arrival.
Firstly, he donated a whopping $100,000 (of his government's money) to Canadian children's charity, after the Duke and Duchess of Cambridge requested gifts were made in the form of charitable donations rather than physical presents.
But Harper couldn't resist sending something practical to the new parents. The official gift, to George, from Canada, is a handcrafted cream-coloured blanket, featuring the Canadian Coat of Arms, as a symbol of Candian heritage and culture.
And since you can't be a future king without your own personal bling, India Hicks, godchild to Prince Charles, has designed baby George his very own pair of silver geometric cuflinks, fashioned out of little 'G's.
Your Own Little Prince And Princesses
If you have your own little baby royals to entertain, take a look at our playhouses with slides. These offer great value for preschoolers, who will love to play house, but can also enjoy a challenging climb and a thrilling trip down the slide.