Ah hoy there me matey's a welcome to this pirate-inspired post for land-lovers everywhere.
Today we are looking at how we can combine your child's love of pirates with outdoor fun and exercise.
Pirate Inspired Climbing Frames
If you don't yet have a climbing frame and you would like play equipment with a pirate theme, take a look at these options.
TP Forest Pirate Galleon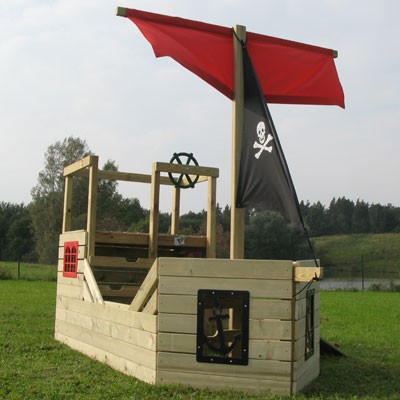 Suitable for children from three years and up, this play frame provides the ideal location for imaginative games. It features a captain's cabin, deck with ships wheel and ladder, a deck area to sit in, pirate sails and a gang plank.
Plum Endeavour Playcentre This play centre offers the best features of a climbing frame, combines with a pirate ship. This play equipment features a boat''s bow, climbing wall and net, swings and slide. The boat can be whatever maritime vessel your child's imagination can conjure - a cruise liner, a lifeboat or of course, a pirate's ship.
All Out Play Galleon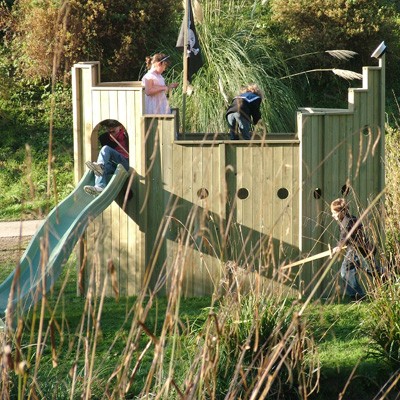 This large playhouse features plenty of space to hold captives and store treasure. There's also the option of adding a slide and a fireman's pole.
Pirating Your Climbing Frame
If you don't want a pirate ship permanently in your back garden, you could buy a regular climbing frame and use some creative techniques to give it a piratical makeover.
Add A Stern To add a stern to one side of your climbing frame all you need is a large, high-sided cardboard box. Two sides coming together at an angle of between 40 and 30 degrees will look very similar to the front of a boat, and create a temporary ground level play area.
Accessorize Telescopes, periscopes and ship's wheels are easy and inexpensive add-ons for climbing frames that help add a new dimension to the way children play with the equipment.
If we don't have an accessory for your brand of frame, get in touch to discuss your options as some of our stock may fit your equipment.
Raise The Flag You could make just about anything look like a pirate ship by simply adding a jolly roger flag. Have fun making one together with an old bed sheet. The easiest way to paint the skull and cross bones is to cut out a paper template, attach to the fabric, then paint black around it.
Add Hazards Another way to stimulate pirate-related games is to decorate the surrounding areas. Make the space underneath the swings shark-infested, either with soft toys or by cutting out sharks from cardboard. You can also use cardboard (magic things cardboard boxes) to create a gangplank to attach to the top of the climbing frame or slide, and gently push soft it.
Dress-Up Finally, you can really set the mood with a stripey t-shirt, eye patch and a cutlass. If you have a stuffed parrot, even better.
All it takes is a little imagination, some planning and plenty of cardboard and you can transform your back garden into a pirate-themed play space.